Office Design Inspiration: 6 Workplaces That Will Make You Swoon
By
Daniel Spielberger
·
February 27, 2019
The age of the cubicle is finally over —hallelujah! Now that workplace culture has become more important than ever, companies are finding clever new ways to make their offices creative and fun. There's a race to have the best amenities, funky artworks, and most interesting designs.  Finally, going to work can feel like a mini-adventure.
Are you looking to switch things up at your workplace and redesign? Check out these awesome offices for inspiration.
Airbnb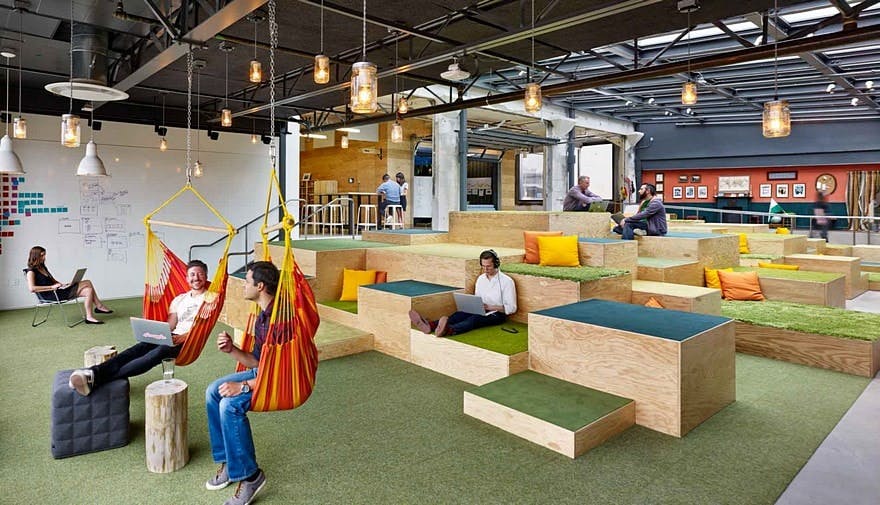 Founded in 2008, Airbnb has transformed the hospitality industry forever. As a testament to their rapid growth across the globe, their San Francisco headquarters is over 150,000 square feet and has a distinctly international vibe.
What's remarkable about these offices is that there's truly something for everyone: tent-style offices, hammocks, atriums, and traditional Art-Deco offices.
In addition to their state-of-the-art cafeteria, plethora of sleek furniture, and a rotating display of contemporary art, the headquarters also has a unique, domestic feel: many rooms are designed as replicas of actual Airbnb listings from around the world, giving employees the impression that they are working from home — if their home was in Havana.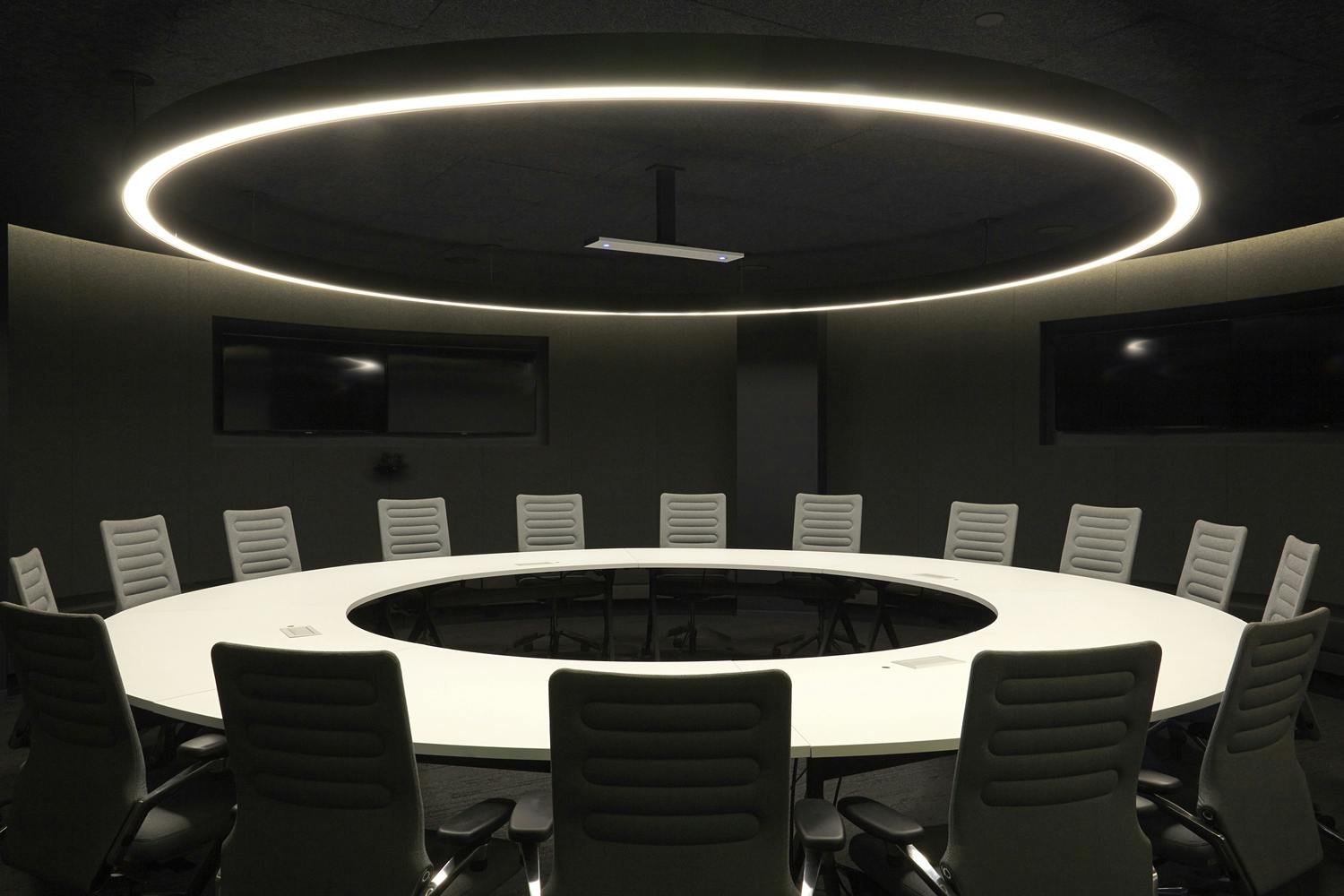 If you're trying to make your office just the right amount of chaotic but luxurious, Airbnb is a great inspiration.
Kickstarter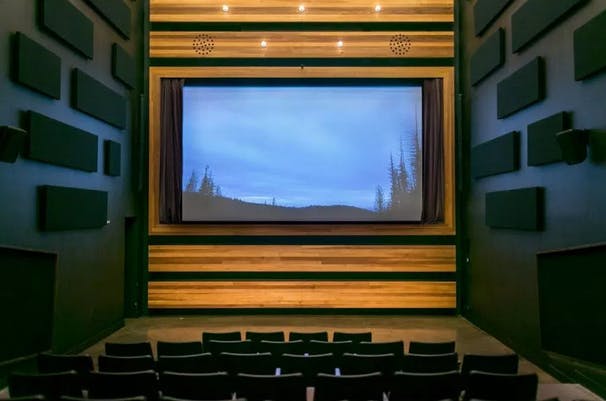 San Francisco isn't the only city with breathtaking tech offices. On the other side of the country, Kickstarter has its world-renowned headquarters in the hip neighborhood of Greenpoint, Brooklyn.
The crowdfunding platform company has been at the office since 2014. Originally a pencil factory, the converted space has a chic, industrial feel that's highly unique to the Brooklyn area.
What makes the office cutting-edge is the fantastic way it emphasizes communal spaces. For example, there's a spectacular solarium that allows employees to bask in light and enjoy plantlife.
Additionally, the headquarters have eco-friendly features like ahe modernist, gorgeous theater that has repurposed wood panelings and a bike storage room. As a forward-thinking company, Kickstarter's workspace is designed to be communal and increase communication between colleagues.
This isn't a workspace for people who are bound to the idea of the traditional desk. There's an open layout and no shortage of inviting, comfortable spaces for employees to congregate in.
Gusto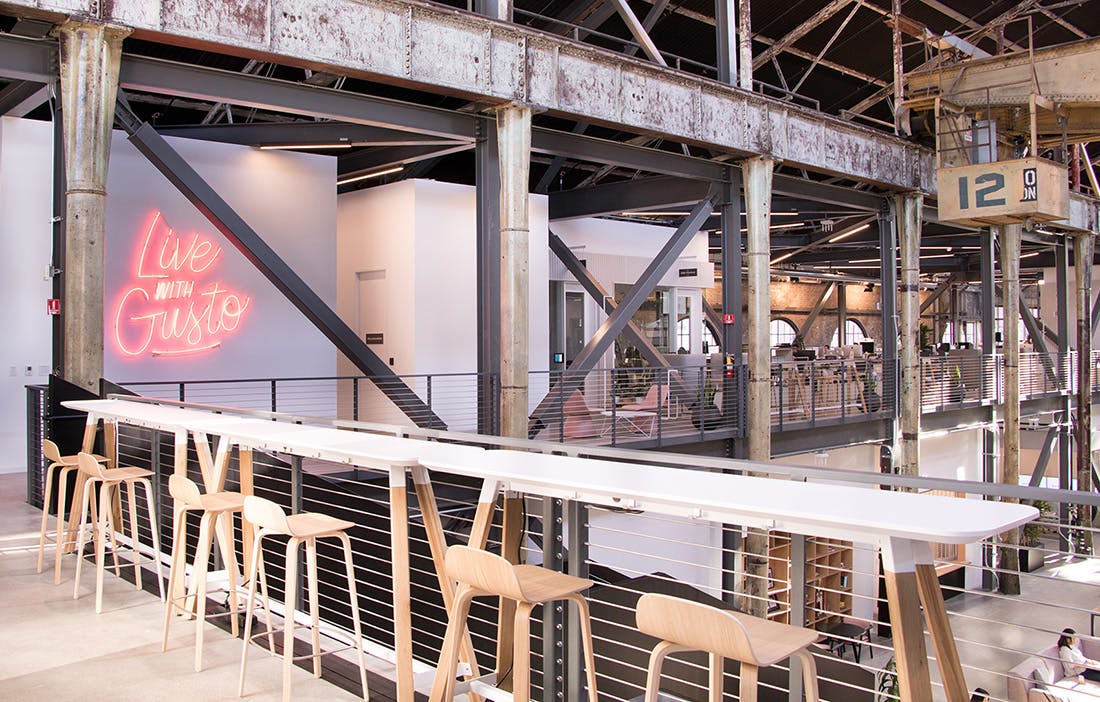 Gusto, a payment platform company, has an office that's the perfect mix of contemporary and retro. For their headquarters, the company repurposed a shipping warehouse in the San Francisco Pier.
Despite its industrial aesthetic and converted 19th century cranes, the office embodies an unapologetically millennial ethos: they have a communal space adorned with murals painted by employees, everyone is encouraged to walk around shoeless (there's even a cubby for shoes at the entrance!), and couches are peppered across the open-office layout.
This is a paradigm of comfort that demonstrates how with the just the right amount of creativity, any space — regardless of how old and rough — can become warm, inviting, and delightful to work in.
Adobe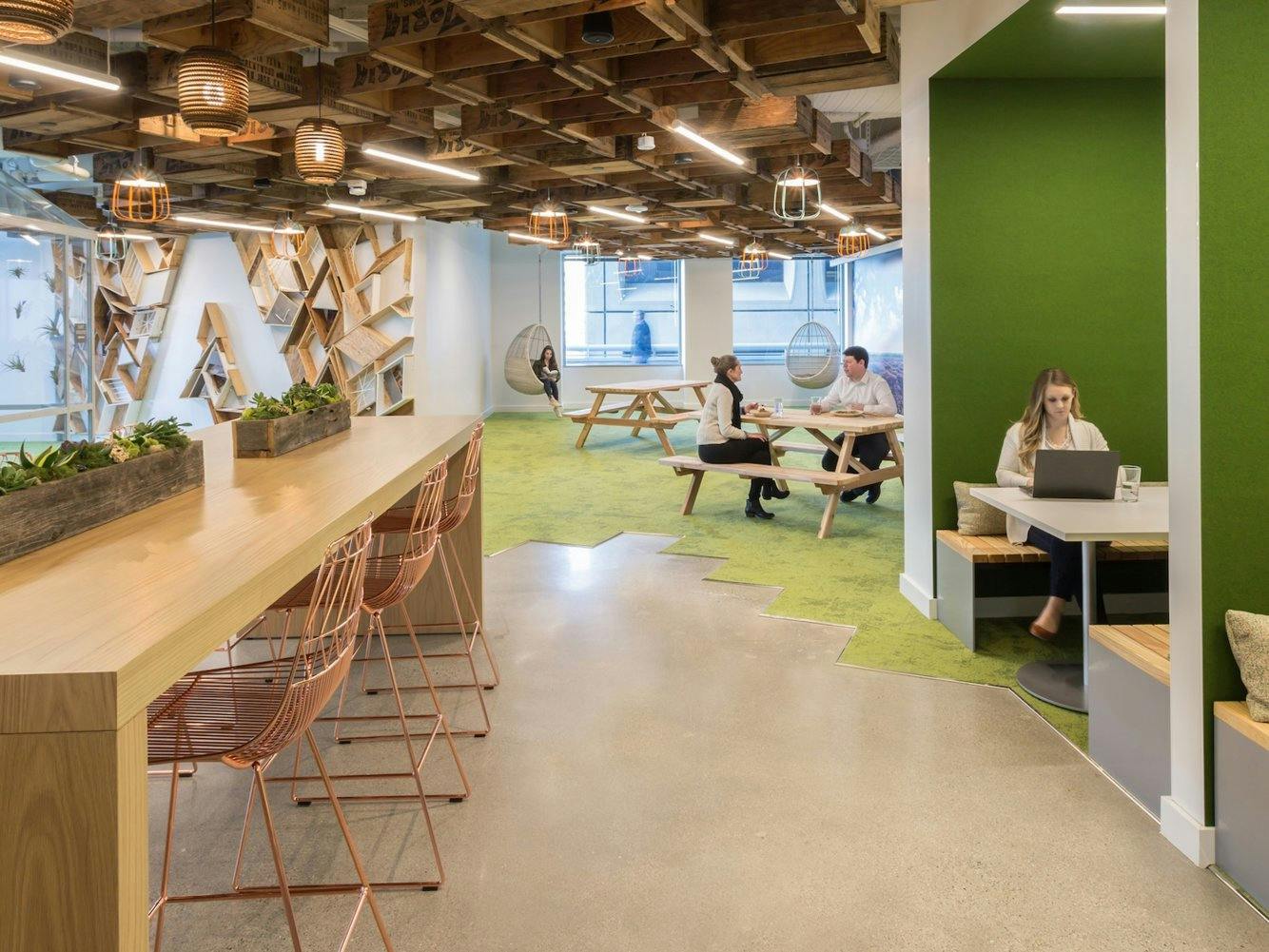 The software juggernaut has over 15,000 employees worldwide. 2,500 of those employees reside in the company headquarters in San Jose, California.
What makes these offices particularly remarkable are the beautiful amenities: multiple eating spaces, a spacious amphitheater, quirky "time-capsule" phone booths, and a state-of-the-art wellness center.
There's also an undeniable human touch — the designers went out of their way to weave references to Silicon Valley's history in the office. One of the many communal spaces is an homage to an orchard, recalling the Valley's more humble history before it was the epicenter of tech. Meanwhile, the "time-capsule" phone booth has an Macintosh running early Adobe softwares as a clever nod to the company's beginnings.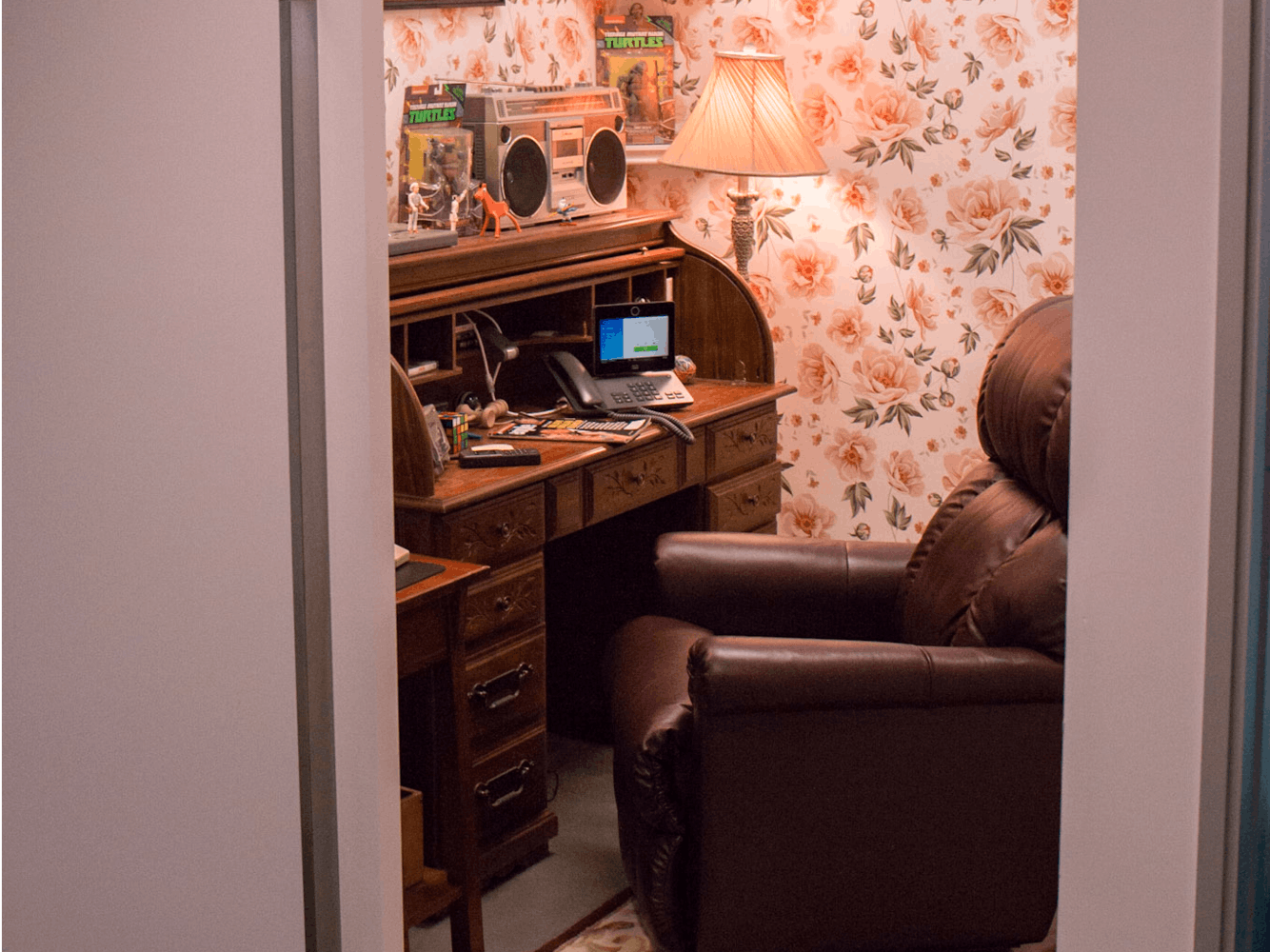 The Adobe headquarters offers a fantastic example of a company utilizing its surroundings and history for inspiration. When designing your office, you should ask yourself — how can I visually convey what makes my company unique?
Instagram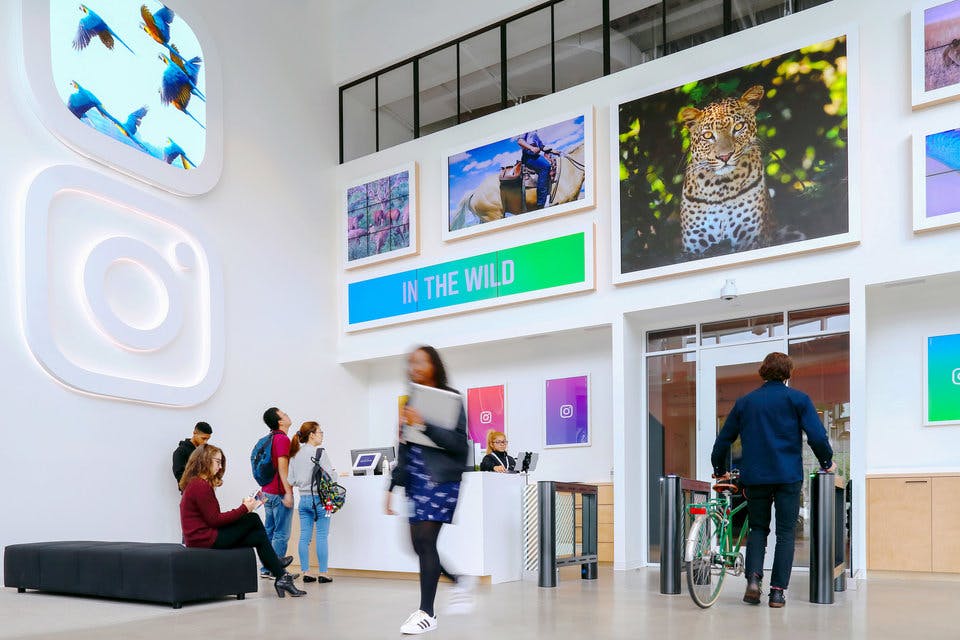 The ubiquitous social media platform Instagram moved into a stunning three-story headquarters in 2016. Their Menlo Park, California office represents the perfect mix of utilitarian and fun.
While each floor has a micro-kitchen that could satisfy the hunger of any engineer working long-hours, there are also plenty of features that are seemingly intended purely for enjoyment. There are sets for employees to take quirky photos during their off-time and a picture-collage wall at the coffee shop.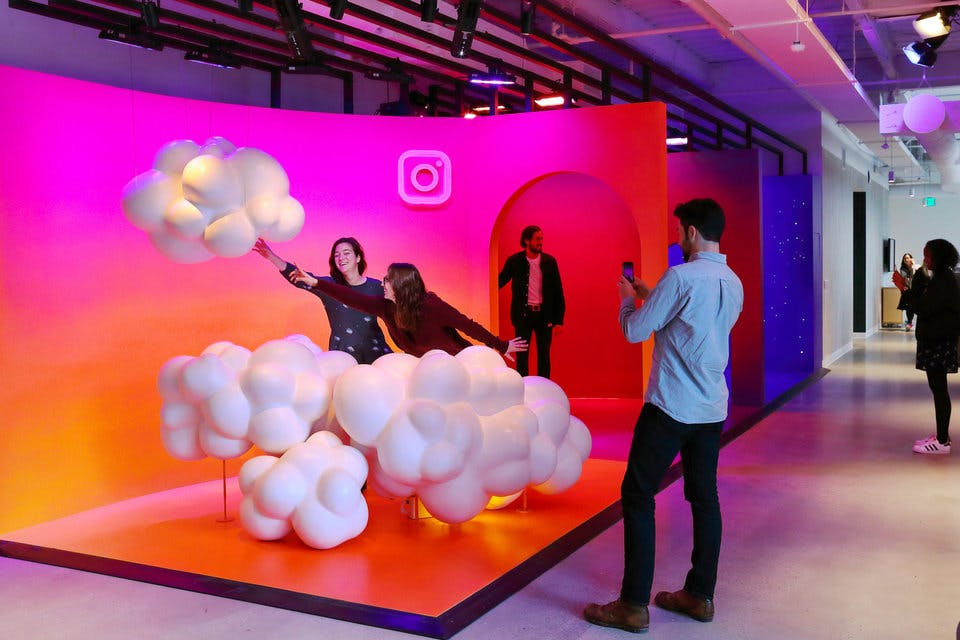 Though the walls are dotted with beautiful with photos from Instagram users, the office is ultimately an ode to minimal design. The couches, chairs, and tables are neutral color and highly modernist, while the windows are large and inviting of natural light.  
The Instagram headquarters is great inspiration for any workplace that wants to exude elegance.
Bumble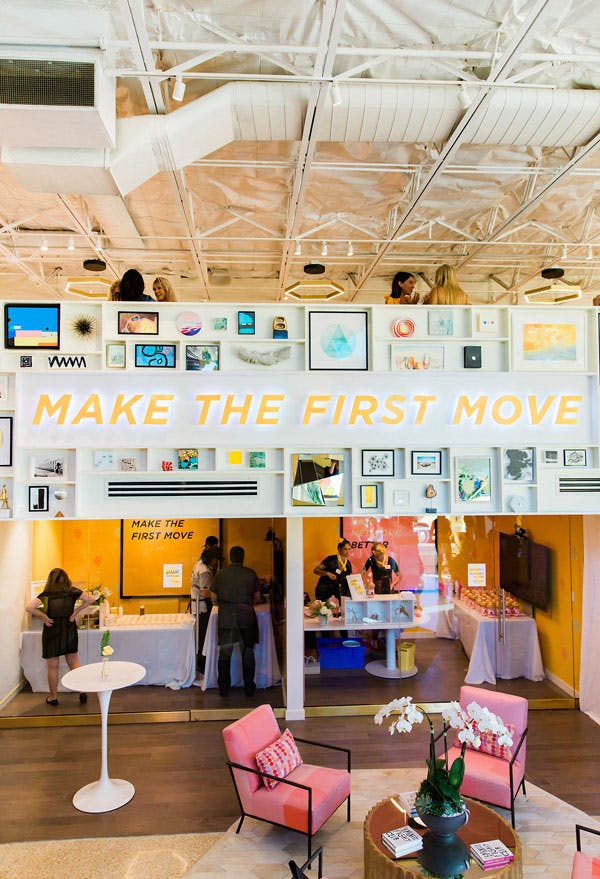 While the Instagram headquarters flexes the virtues of minimalism, Bumble's headquarters show the benefits of being colorful, loud, and vibrant. The dating app is famous for its unique, empowering philosophy. Unlike the numerous of other dating platforms, women message first on Bumble and are in control.
Their Austin, Texas headquarters leans into a cohesive theme and promotes an overarching message of empowerment. Everything from the tiles to the mirrors shaped like hexagons, rendering the headquarters into a giant tech beehive. In addition to these quirky details, the headquarters is filled with inspirational posters that distill the company's ethos into punchy mottos: "Make the first move!" "Brains are the new beauty!" You're a queen bee."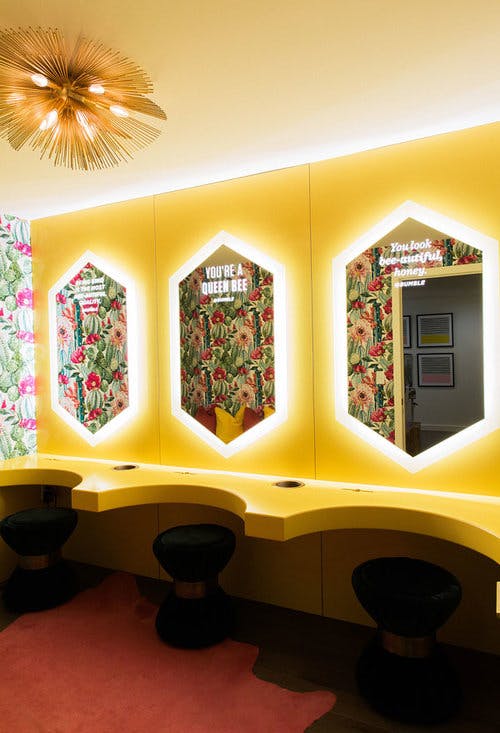 As a highly contemporary office, there's also plenty of open space and funky furniture. The Bumble headquarters is perfect inspiration for any company that wants to make a big, bold statement with their office.
Inspired Yet?
Redesigning your office is just one step to making your workplace more efficient. Check out what Eden can do to keep your employees happy.
Book a Demo