6 Corporate Office Design Ideas From Brands You Know
By
Thomas Adams
·
June 3, 2019
The design of your office is crucial in fostering productivity and creative development for you and your team.
A uniquely designed office space has been shown to foster creativity and encourage improvement in overall quality of work.
While it can be difficult to figure out the best way to go about updating the design of your office, a great way to find inspiration is to look at what other popular companies are doing.
They have likely invested a lot of time and effort into innovating their own office spaces, so it's safe to assume that many of these designs work well for their employees.
Here are 6 corporate office design ideas from brands you've likely heard of.
1. Nike HQ (New York City, NY)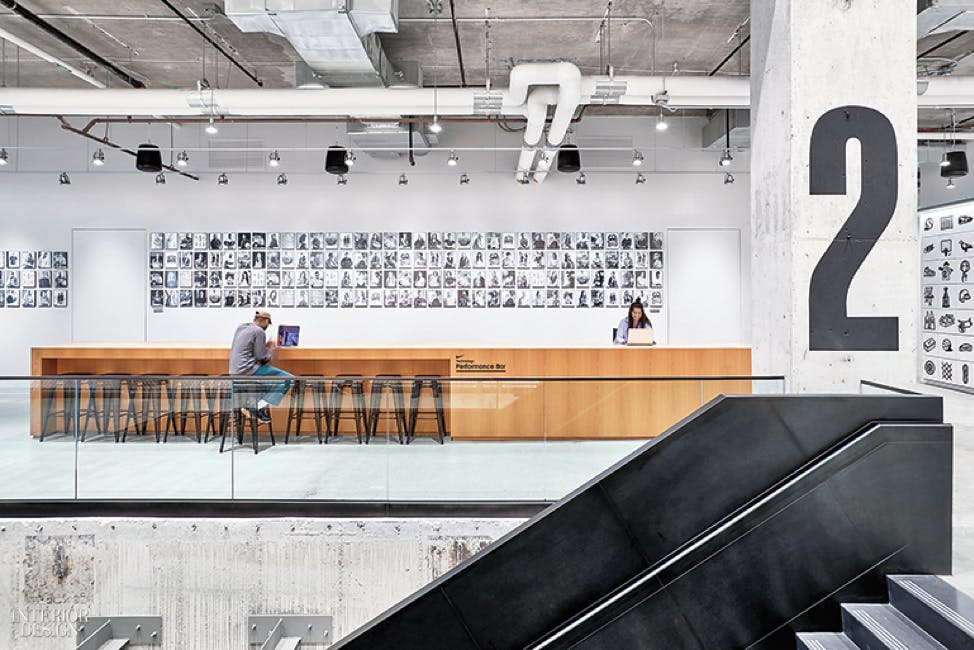 Image Credit: https://www.interiordesign.net/projects/13757-nike-ups-its-street-cred-in-nyc-with-a-new-office-by-studios-architecture/
With their iconic footwear being centerstage for several famous athletes and musicians, Nike's business model has creative design at its foundation.
For this reason, it makes sense why their New York office is designed in such a way to epitomize this principle.
Located in New York City, their workspace features characteristics that convey the urban, gritty vibe that exists within the city while also infusing elements of their own culture by including special amenities like a full-size basketball court.
A major focus Nike made while developing the plan for the office design was to prioritize fluidity of ideas and open communication between employees.
This was done by going against the usual enclosed, cubicle-style spaces that hinder interaction between team members and instead going for a more open approach with their seating.
All in all, this corporate office design is centered around the values of interconnectivity and collaboration to help bolster innovation and productivity.
2. Airbnb HQ (San Francisco, CA)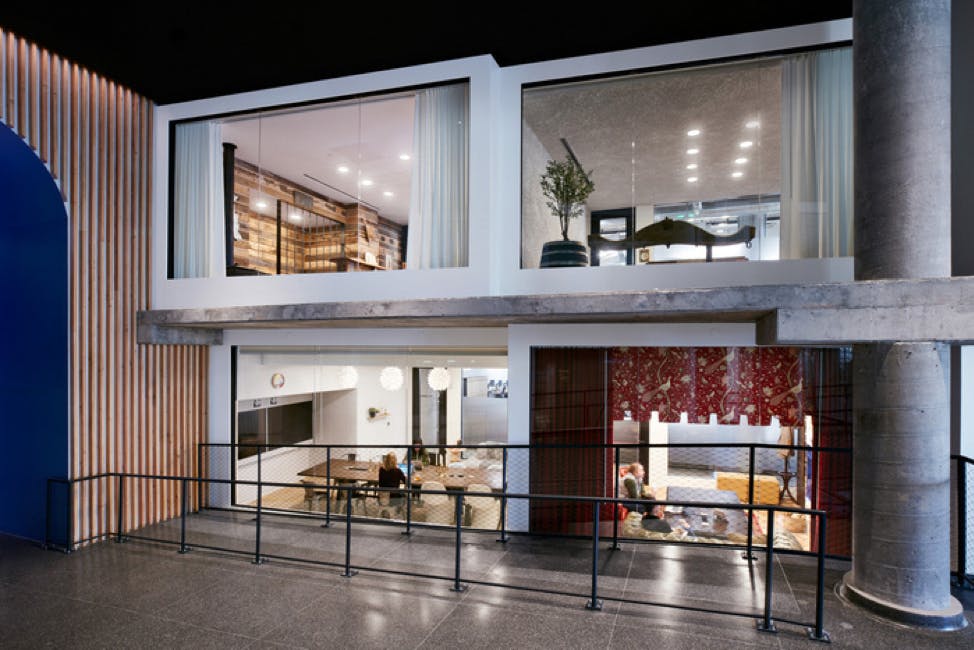 Image Credit: https://officesnapshots.com/2017/10/11/airbnb-us-headquarters-expansion-san-francisco/
For Airbnb's newest corporate office design, they wanted to develop a new experience for their employees while only utilizing the existing structure of their building.
In effect, they were able to reveal the fantastic qualities of the building itself rather than reinvent anything from the ground up.
Their corporate office design was built to provide an organic atmosphere which includes the use of natural light and the removal of all non-structural components.
Another unique aspect of their design was to expand the character of the office by establishing themes for each floor. These themes are based on travel destinations around the world to relate back to their core business model.
The intricate design of Airbnb's office was built to convey an obvious attention to detail and produce a workplace that is both exciting and inspiring.
3. Amazon HQ (Seattle, WA)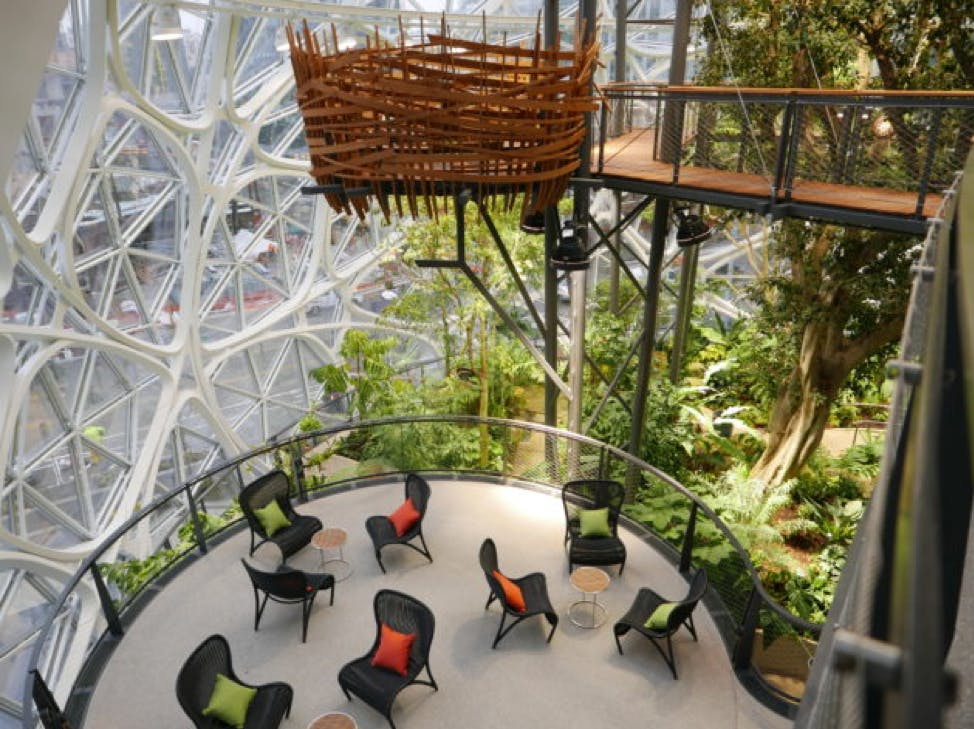 Image Credit: https://www.geekwire.com/2018/welcome-amazons-jungle-inside-spheres-40000-plants-create-office-like-no/
The design of Amazon's Seattle corporate headquarters is based on a contemporary style that makes great use of natural vegetation with sleek elements creating a sort of "oasis" atmosphere.
Amazon's simple concept with this design is to give their workers an experience unlike any other produced in an average workspace.
The eccentric environment gives employees the freedom to develop innovative ideas and work in an office that takes creativity to a new level.
The foundation of what a "normal" office should look like is flipped on its head with this design to motivate Amazon employees to think outside the box and get creative.
This may be one of the most elaborate office design ideas we've seen, but it is truly remarkable and definitely inspiring!
4. Bumble HQ (Austin, TX)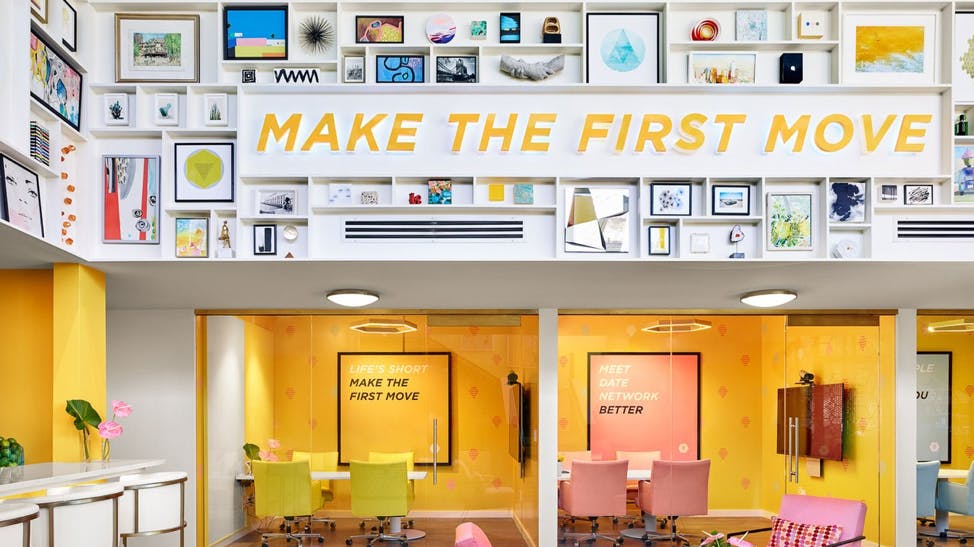 Image Credit: https://www.architecturaldigest.com/story/queen-bee-whitney-wolfe-shows-us-around-bumbles-new-headquarters-in-austin-texas
Women, the focus of dating app Bumble's business model, are at the forefront in terms of the design of their Austin, TX office.
The interior design contains vibrant colors and empowering phrases lining the walls. This feminine vibe corresponds well with the mission of the company as a whole being a "women-make-the-first-move" dating app.
This feminine design embodies the nature of the team and establishes an atmosphere that produces creativity, empowerment, and collaborative energy.
The offices are also designed with the well being of their employees in mind by providing an array of convenient amenities ranging from meditation areas to beauty rooms.
All of these design perks show employees that their well-being matters most to the company which almost always translates to happier, healthier, and more productive individuals.
5. Instagram HQ (Manhattan, NY)
Image Credit: https://www.dezeen.com/2018/06/20/instagram-new-offices-manhattan-new-york-gehry-partners-photo-opportunities/
Instagram's New York offices are designed to incorporate the latest technology with interesting features that support the company's culture of innovation and community.
Along the contemporary-style corridors are fun things like selfie stations, beautiful artwork, and even a digital wall full of imagery from people's Instagram feeds.
These characteristics create a fun-loving environment that's very inline with the business model and style of the social media platform.
Simply put, the overall corporate office design idea was built around artistic features that exhibit the company's passion for art and creative expression.
Whether employees need a quiet place to focus and develop independently or an open area where cooperation and communication can be achieved, Instagram made sure that all the needs of their team was met with their office design.
6. L'Oreal USA HQ (Manhattan, NY)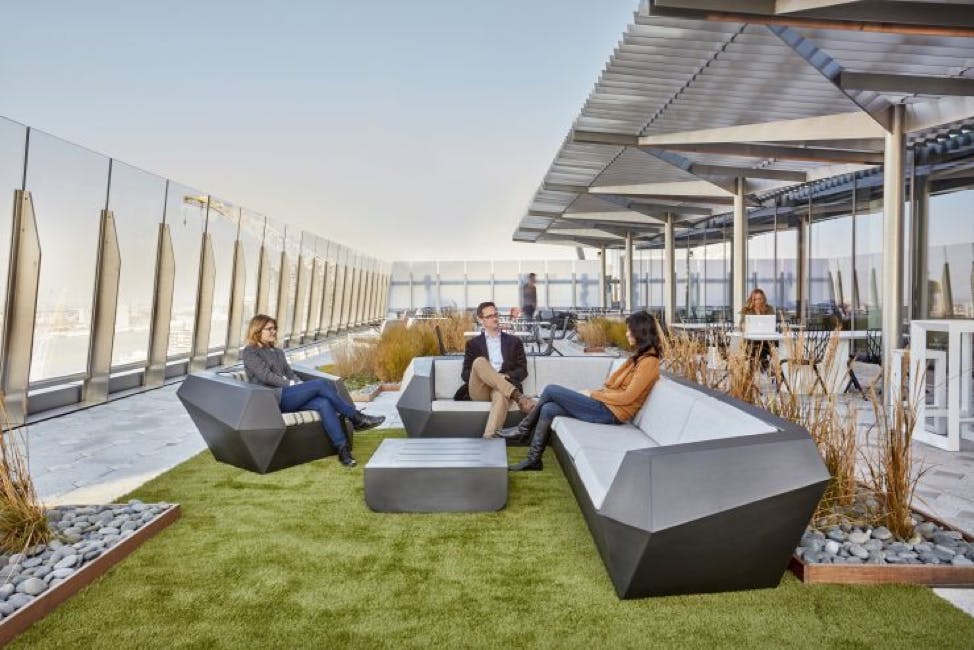 Image Credit: https://www.cnbc.com/2018/03/13/a-look-inside-loreal-usa-offices-at-hudson-yards-manhattan.html
The offices developed by L'Oreal USA were created with the goal of enhancing the work experience for their employees.
Some of these experiences include a virtual reality room to help employees actually see products and product placement, an on-site store, and a beauty center where employees can partake in using items from the company that have yet to be released.
This, in turn, results in a corporate culture that values innovation, self-development, and sustainability.
All of these aspects of their office design put L'Oreal USA's employees in roles that make them feel important and like their voices matter as they are able to perform their jobs in exciting, innovative ways.
The Best Office Designs are Built With Your Team in Mind
When it comes to creating the best office design for your company, it's always important to listen to your employees.
While you likely may not have the budget to create something as elaborate as Amazon's Seattle headquarters, you may be able to make small changes to your office design that your employees are requesting.
Allow your employees the best space they can have to work hard and be innovative while also being realistic and setting proper expectations.
Finding unique office design ideas can be a challenge, but hopefully this list has given you the inspiration needed to implement something new within your office's design.
Are you interested in making your workplace more efficient? Check out what Eden's Workplace Management Platform can do for your office.
Book a Demo