5 Inspiring Welcome Gifts To Give New Employees
By
Krista Gray
·
February 22, 2019
When a new employee joins a company, it's a big occasion for them. They're starting a new chapter of their life that will (hopefully) last a long time. For the foreseeable future, they'll be a part of your company identity, and an advocate whenever they're in public.
And there's no better way to mark the occasion than with a gift bag. It's a demonstration of your company culture, and signal that you want them to be a part of it. It also gives new hires a taste of your brand and how people engage with one another at work.
Looking to build upon a great first impression once a new coworker has walked through the door? Round out a welcome tunnel, new hire lunch, or fireside introduction with gifts that'll delight and inspire your newest teammate to have a blast while doing their best work.
In this post, we'll cover the best types of welcome gifts you can give new employees.
Tools Of The Trade
Do your new hires require gear, software, or gadgets to do their job? Gift them their new laptop, headphones, magic mouse, phone cover, or program subscriptions on the first day with a thoughtful card or note. They'll be thrilled to get started!
A little personalization goes a long way here. Put a company logo sticker on their new MacBook, or give them a branded laptop sleeve.
Some companies, like Percolate, also set up the new employees' desks in advance so that when they're arrived, they're greeted by a new computer, monitor, mouse, and other essentials to hit the ground running.
Notebook And Pens
No matter your new hire's role at the company, a notebook is sure to serve them well. Gift a sturdy pad or planner, such as a Moleskine, with lined pages for easy note taking while working on personal projects or jotting down reminders and ideas during meetings.
Pair a functional notebook or planner with fun pencils or pens; both Etsy and Amazon have plenty of colorful, personalizable, and even unusual sets to choose from.


Again, some personalization makes a huge difference here. Thinkific, a Vancouver startup, has every employee write a welcome note in the new hire's notebook before they join. It brings a smile to their face when they see all those notes from people they'll be working with.
Wearable Swag
Your new hire is excited to join your team and will likely love some branded swag they can proudly sport around town. Depending on your budget, pick from t-shirts, hoodies, bags, or even jackets.
Companies like Patagonia will customize popular items, such as fleeces and pullovers, with your company name and logo. If you're ever in San Francisco, you can't miss the thousands of people walking around in branded t-shirts and Patagonia vests.
Check out Uber's swag package. They don't just stop at hoodies. There's a cap, a bag, even a branded mug!
Gift Cards
Looking to branch out from standard gifts or want to include a small token that encourages new hires, especially those who may have relocated, to scope out your office surroundings? Consider including a giftcard to a spot that's a team favorite, such as a coffee shop, bar, or lunch joint with rave reviews.
Pocketgems also gifts new employees a guidebook to the city.
And Ssense, a fashion startup, gives employees a $100 gift card to spend on their online store. This has the added benefit of helping new employees get acquainted with their products and how people purchase from them.
Books
A book is a great new hire welcome gift, be it a read that pertains to the company's mission, one that offers important info or lessons about the business you're in (or products you offer), or a mini-read that serves as motivation.
Looking to offer something next-level? Take a cue from Clever, a San-Francisco based edtech company, that offers employees free non-fiction reads as an on-going perk for page-turning teammates.
Percolate takes this a step further and actually gives new employees a free Kindle on their start day!
"That's linked to the core idea that we are a learning organization. It's our responsibility to help encourage people to continue to read and make themselves better," co-founder Noah Brier says in an interview with First Round. "They can read whatever they want, but personally I find the Kindle to be a pretty amazing device for continuing to find new ideas in the world."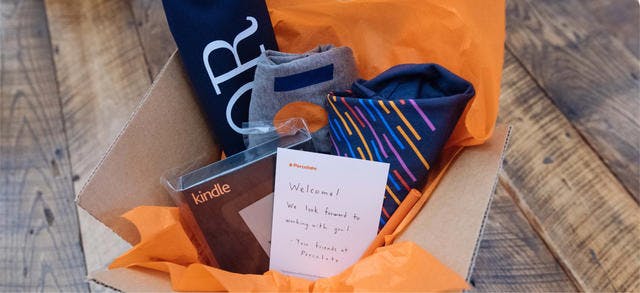 First Impressions Matter
As companies get bigger, it's natural that the 100th or 1000th person to join will not be as novel as the 10th. That doesn't mean it's not novel for the new employee. Often time, it's a big decision for them and a new adventure, and a welcome gift bag will go a long way to make them feel at home and affirm their decision.
Do you have any novel ways of welcoming new hires? Post your ideas in the comments below!
Book a Demo