4 Simple Decor Details to Spice Up Your Office Atmosphere
By
Kiley Salmons
·
August 16, 2018
When creating an office space, everyone desires a design that is aesthetically pleasing. It's important to have an office that looks nice for visitors and guests, but having a style that is well-liked by your employees is equally important. Here are a few simple ways to enhance the soft seating in your office:
Pillows
Throw pillows are everything and they provide a welcoming atmosphere everywhere —  not just in the home. Adding throw pillows to your seating at the office — be it a sofa, a chair, or a wood bench — will help your employees feel more invited to take a load off during a meeting. It's the perfect addition to any room, and you get to use your creativity to brighten up your office space! Need some ideas for places to look for pillows? Try IKEA. They offer several options for throw pillow covers — a bonus because you can remove them and change up the look! Shopping at Target is also a great choice. With tons of different styles to choose from, you're bound to find the perfect pillow to match your office's style. If you are looking for a 100 percent crowd-pleaser, another place to check out is West Elm.

Throw Blankets
We all know that offices are typically freezing cold during the summer. Adding a throw blanket to your communal area sofa not only enhances the decor but also helps out those coworkers who are always a little chilly during work meetings. A pop of color in a soft material will make your office feel more like home.

Floor Pouf
Not everyone likes to plop down on a couch or a chair. Spice up your office decor and add a fun pouf to the atmosphere. Think floor bean bag from your middle school days, but elevated. Floor poufs not only add extra seating, they also work as footstools for those times when your team just needs to put their feet up. They provide style AND comfort.

Area Rugs
Choose a rug to help change the look or feel of the room without breaking the bank. Whether your office space has hardwood, tile, carpet squares or concrete floors, you can't go wrong with a rug to make different lounge areas in the office more appealing. Rugs also make a great accent piece. A pop of color might be what you need to liven up the place or change the mood. Some rugs can be used to help connect pieces of furniture that may look out of place when standing alone.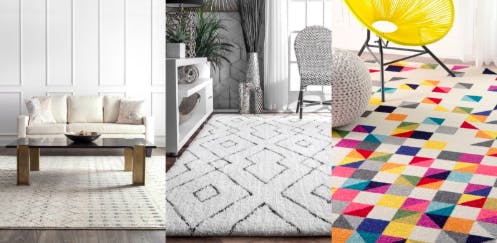 You don't have to go crazy to enhance those areas in your office that you want to be inviting and relaxing both for your employees and your guests. Start here. I promise a cute throw pillow or two will change the aesthetic in no time!
Book a Demo